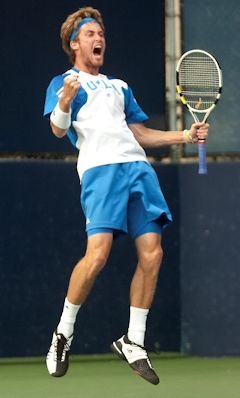 "Jon is an amazing trainer. He understands biomechanics and movement better than anyone I know. He has designed programs for me that have taken my tennis game and my fitness to the next level. His holistic approach encompasses the whole person and takes into account their strengths and weaknesses in areas such as breathing, stress levels, body alignment, foot structure, flexibility, and mental toughness. He truly has a revolutionary approach to health and wellness." – Clay Thompson, #1 NCAA Men's Singles, #1 UCLA Men's Singles, #1 California 18's Junior Tennis
---
"For the development of the Thunderbell multi-platform training program and product launch, I specifically sought out Jon Arend not only for his physical training and athletic ability but for his supreme understanding of functional biomechanics and his dedication to high-performance coaching." – Jeremy Levine, Military Functional Performance Expert Who Developed Curriculum and Physical Training For 10 Navy SEAL Teams, BUD/S, Special Boat Teams, US Army Special Forces, and US Air Force Special Tactics; Wrote The Official Navy SEAL Fitness Guide For All SEAL Teams
---
My name is TJ Pura and I am currently a freshman student-athlete playing tennis at Duke University. I have had the pleasure of working with trainers from the Olympics, United States Tennis Association, and UCLA athletic trainers. Quite simply, Jon is the bar-none the best trainer I have ever worked with.
To say that Jon is a 'trainer' in and of itself is a misnomer. Jon is an innovator and mastermind in the development of strength and conditioning. Beyond his physiological training, Jon's extensive knowledge of science separates himself from his competition. This is reflected through his uniquely functional training methods and unparalleled drive to learn more every single day. From my very first session, I knew this was going to be something special. In a first session with other trainers, they would want to see me sprint, jump, hit tennis balls, move laterally, etc. Jon did not care about any of this, at least, not until he understood my body. He was chiefly concerned with learning about my biomechanical movements, and showed me how certain discrepancies in my body directly affect my on-court performance.
"Your right scapula is stuck, it isn't sliding", he concluded as I raised my arms above my shoulders. "Are you a righty with a one hander?" "Yes", I responded. "Figures. Your right side is ripped, but your body is going to start compensating for the lack of strength on your left side if we do not counterbalance and get you structurally aligned."
Within the first five minutes of my biomechanical diagnostic test, I was blown away by Jon. For the past two years, Jon has helped me vastly improve my conditioning, strength, nutrition, and psychological development. Without his expertise, I would not be the athlete and person I am today. – TJ Pura, Duke University Tennis, 5-star Recruit Southern California, #7 Recruit in Southwest Region
---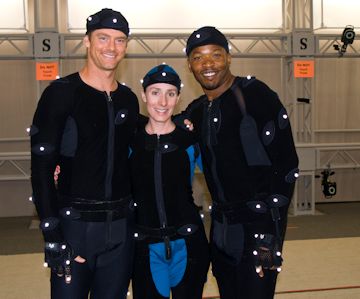 "Jon Arend is like no other trainer I've ever worked with before. His vast knowledge of the human body and movement is unparalleled. Jon can transform information into useful practice for average consumers and professional athletes. I'm forever in gratitude for his hands-on approach and expertise." – Jennifer Davidson, Project Lead for NIKE SPARQ, Collaborates With World-class Trainers To Develop Training Program Logic, Professional Gymnast, Project Leader For Nike and Microsoft Xbox 360 Kinect Training
---
"I am a Doctor of Physical Therapy and the owner of a private practice on the West Side of Santa Monica, CA. I first met Jon in my office when he came in with one of my patients who he happened to be training. He wanted to know more about his clients' condition. How refreshing. As we talked it became immediately obvious from his insightful questions that Jon had a wealth of knowledge in many areas of fitness, nutrition, anatomy, physiology, biomechanics and various sports. This was not bookish knowledge of facts, but a carefully collected, considered and applied information about the human body. More importantly, Jon was not blindly accepting my opinions, but methodically and politely continued to ask questions that eventually led him to forming his own opinion.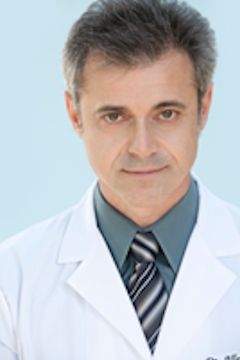 I was impressed by Jon enough to form a closer working relationship with him and never hesitate to refer my most complicated patients to him. Over time it became obvious that Jon dedicates substantial amount of his personal time to learning about his clients' conditions and to design their training. In return he garners their outmost support, as I observed in my office many times. Jon gets my highest recommendation." – Dr. Allen Letgolts, Doctor of Physical Therapy from USC, Undergraduate Degree In Applied Mathematics and Computer Science from UCLA, Ukrainian Champion In Sailing and Shooting